소형주택...
항상 시공사들에게 가장 부담스러운 주택 ?
이유가 뭘까???
주택시공에 대한 기본 공정들...
작다 ?? 크다 ??
그럼 왜 시공사가 부담서러워 할까???
아직... 평당 얼마라는 것이 건축주들에게는 중요한 key point !!!
요즘 시공사를 운영하면서 소형주택에 대한 문의가 올때 가장 난처하다
평당얼마???
1. 30평이하의 주택이라도 요즘 기본 화장실은 2개
(구성은 30평 이상과 크게 다르지않다는것...)
2. 주택을 시공할때 기본으로 소요되는 관리비 포지션...
(현장소장, 본사관리등 직접 및 간접관리비 1,500만원의 관리비가 든다면 20-25평이면 평당 60만원 이상...)
3. 소형주택의 디자인 요소...
나만의 주택을 소유하고 싶은 욕망이 있다면 관계 없지만...
외벽의 요철이 많고 구성요소가 복잡하다면 ... 평당 약 50만원 이상의 비용이 소요됨...
그래서...
실용주택 / 모듈주택 등이 필요한 실정이다...
해외사례를 한번 살펴본다..
 
This small wooden hut is a combined guest house and sculpture studio perching
on the edge of Lake George in upstate New York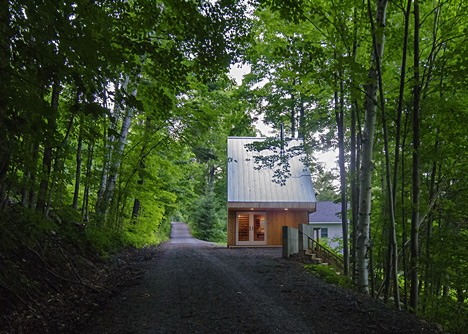 American architect Jeffery Poss worked with Chicago-based WORKUS Studio to design the two-storey Polygon
Studio in the surrounding woodland of an existing house.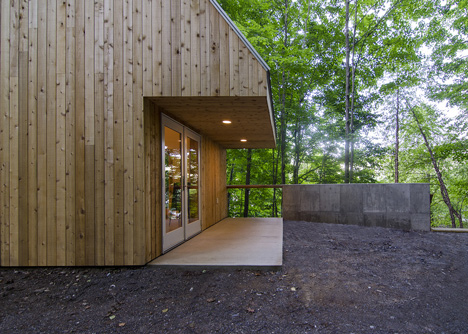 The studio is built at a vantage point overlooking the lake. A tiny wooden balcony juts out from a top-floor loft to offer
a view through the trees and down a flight of steps towards the water's edge.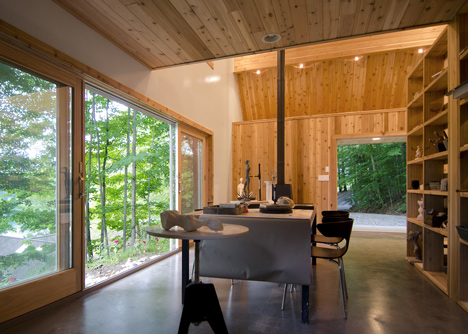 The ground floor features a spacious area for sculpture work with shelving for equipment
on one wall and large sliding glass doors opposite.
The guest room occupies a mezzanine that juts out overhead.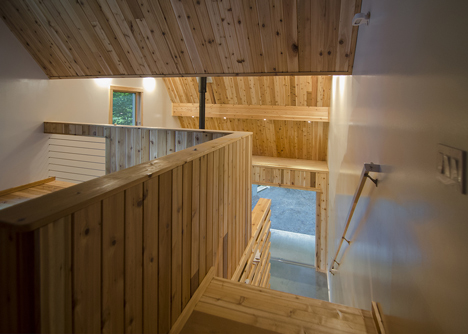 "The interior result is a series of very distinct yet interconnected spaces," architect Jeffery Poss said.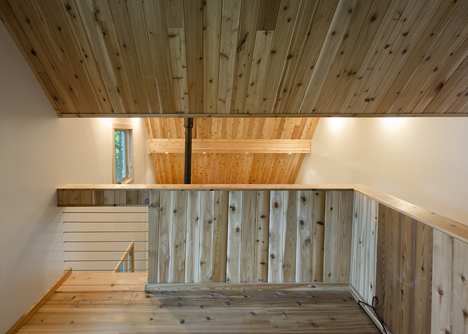 Vertical panels of locally-milled red cedar line the interior walls to create a cosy
interior that references ski lodges and saunas.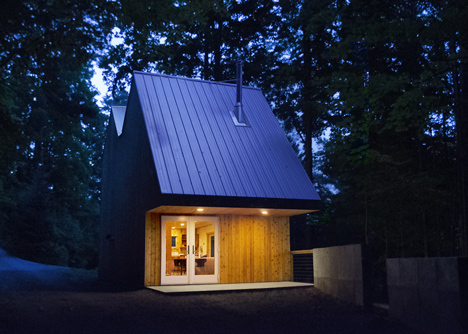 The building has a zig-zagging profile formed by a pair of gables, also clad in cedar panels.
The remaining exterior walls and roof are covered in galvanised steel siding.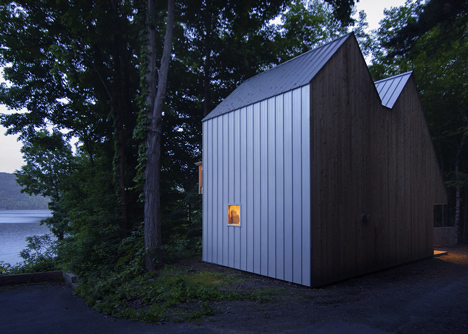 A small square window offers a glimpsed view through one of the walls,
while sliding glass doors face out onto the lake and provide the main source of natural light.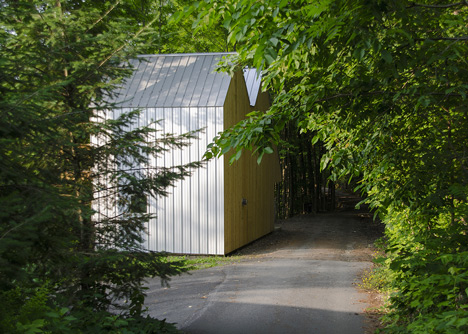 Other studios in the woods to feature on Dezeen include a writer's hideaway,
also in upstate New York, and a wooden treehouse housing an artists' studio in Scotland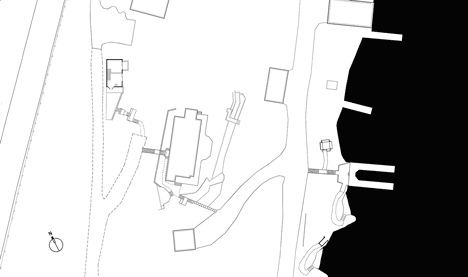 Here's a project description from the architects:
Polygon Studio
The owners of a steep lakefront residential property wanted a small studio that could serve for making sculpture and accommodating guests.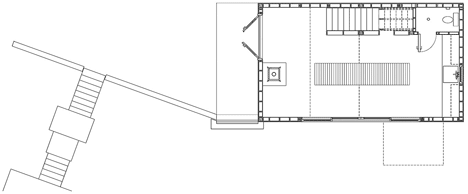 The form of the building reflects these two functions. The sculpture studio on the ground floor has both a large vertical light-filled space, as well as a lower service zone tucked under the loft.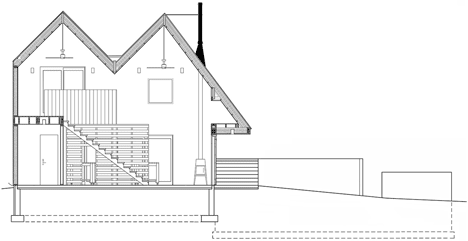 The studio is located at the highest point of the property, along an access road that forms the western boundary. The guest space is at the pinnacle of the site, 130 steps up from the water's edge.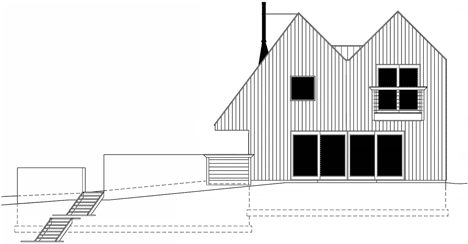 This vista allows elevated tree-filtered views of Lake George. The exterior cladding references Adirondack rural vernacular and helps emphasise the spatial conception.
이 건물은 과연 실용주택일까요...'???
아님...
다 음건물은...
모듈러일까요???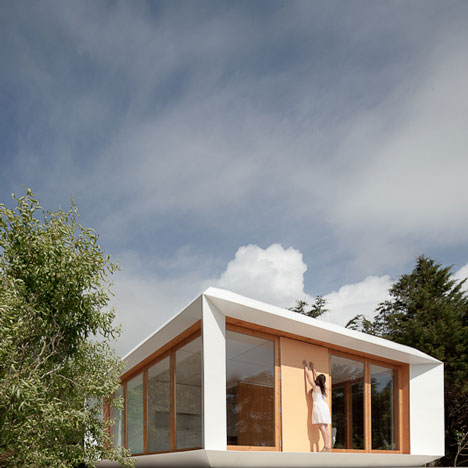 This prefabricated house in Portugal costs about the same price to manufacture as a family car
(photographs by Jose Campos).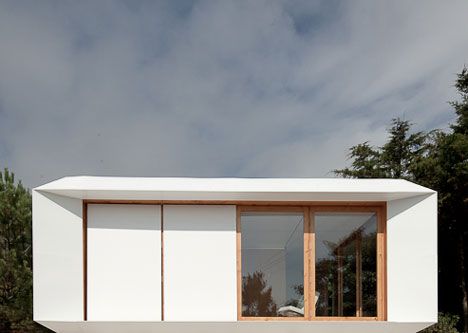 Plywood panels transform the windows into walls to create privacy where necessary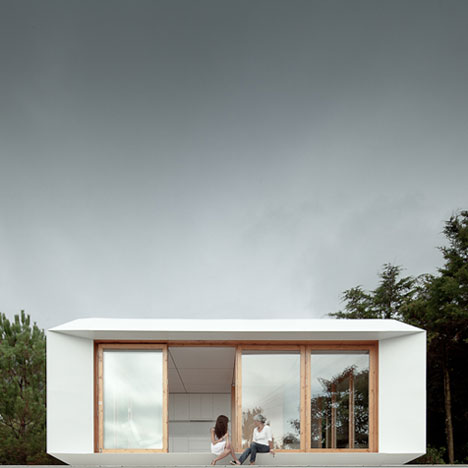 Some other interesting Portuguese house we've featured include
one that the architect describes as a grey house with a black backpack and
another with gaping chasms in the roof
Mima House
Viana do Castelo, Portugal
MIMA started from the intention of planning a dwelling that responds directly to the lifestyle of nowadays' societies.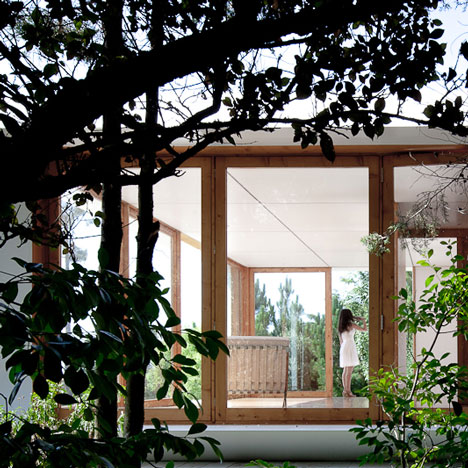 How can architecture adapt to the quick life changes and ambitions of a well informed and increasingly exigent society?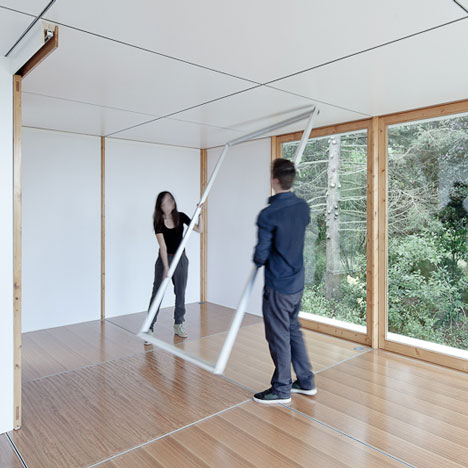 MIMA architects researched during years to be able to put together on a single object a fast produced, flexible,
light and cheap yet good quality product, wrapped up with a pleasant clean design.
A 3D software developed by MIMA's architects and software engineers
allows a recognition of your land through Google Earth and generates
an automatic 3D model for a realistic perception of the house and site.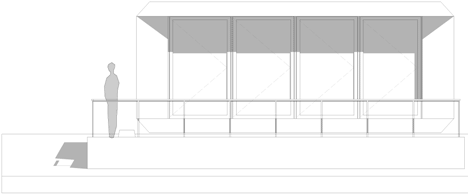 This software allows for walking inside the house and defining the architectural finishes– external walls,
internal divisions, materials and colors
이것은 모듈러???
우리나라에서 모듈로 시공하는 모델보다
디자인적이다...
다음은 콘테이너 베이스...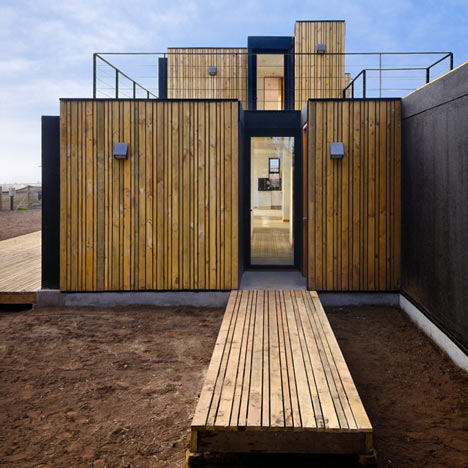 Chilean architects Alejandro Soffia and Gabriel Rudolphy
designed this house in Santo Domingo as a cluster of prefabricated modules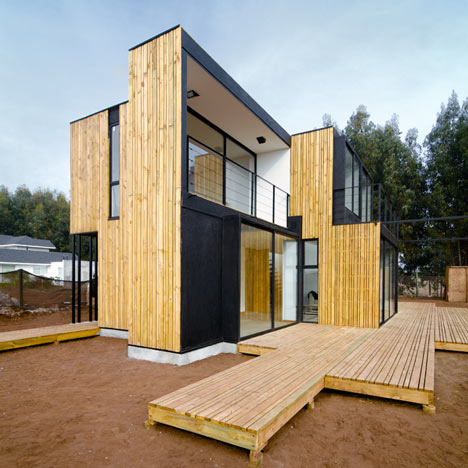 Named SIP Panel House, after the insulated structural panels that make up its walls,
the house is clad with wood on only its north and south-facing elevations.

Structural engineer: Jose Manuel Morales, Client Vicente Hidd
Materials: SIP panels, wood
Project area: 101 m2
Construction date: 2011

컨테이너베이스라도...
이렇게 멋진표현이 가능하는구먼...
하지만... 연구해보면 쉬운부분은 아니더이다~~~
살짝 연구한 모듈주택을 소개합니다.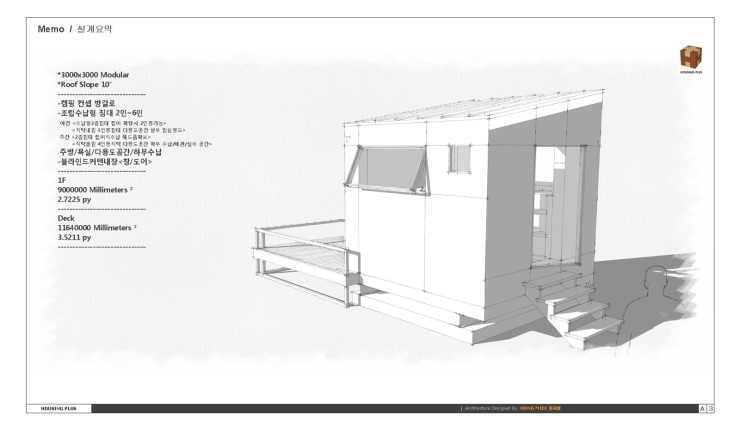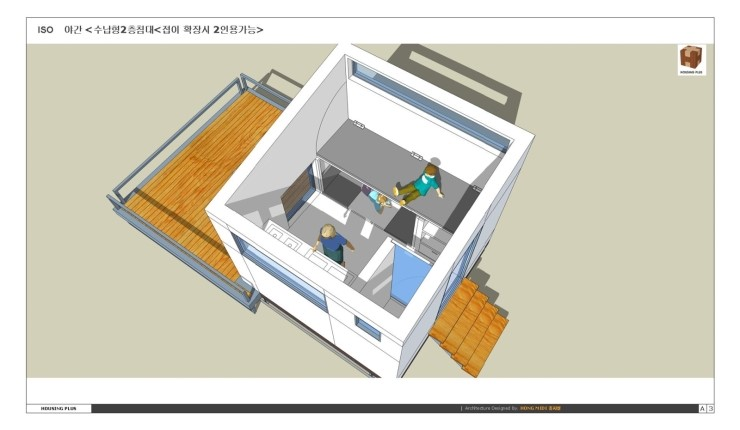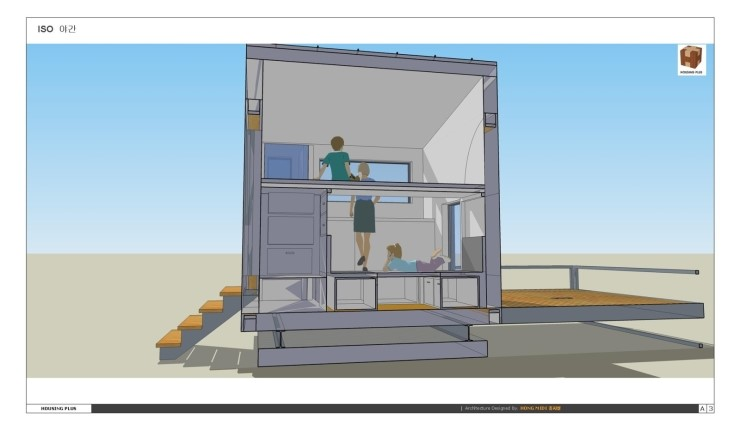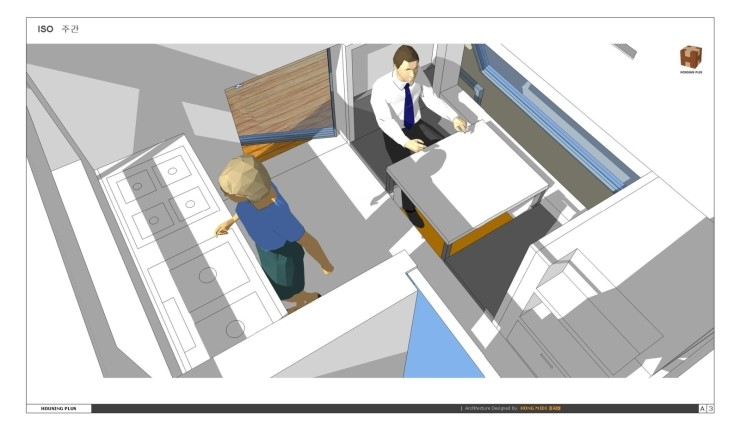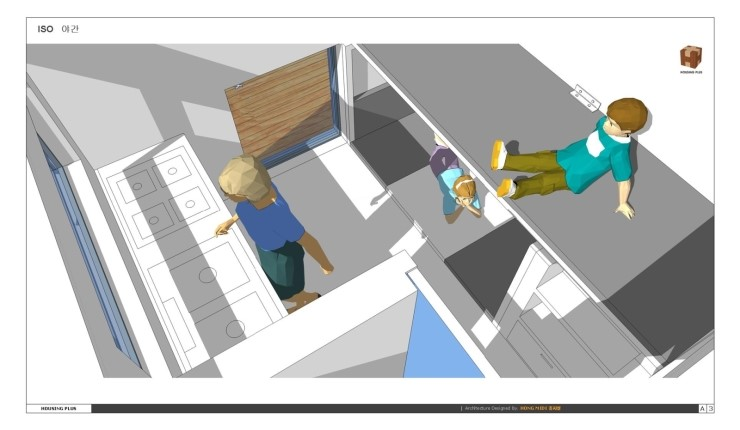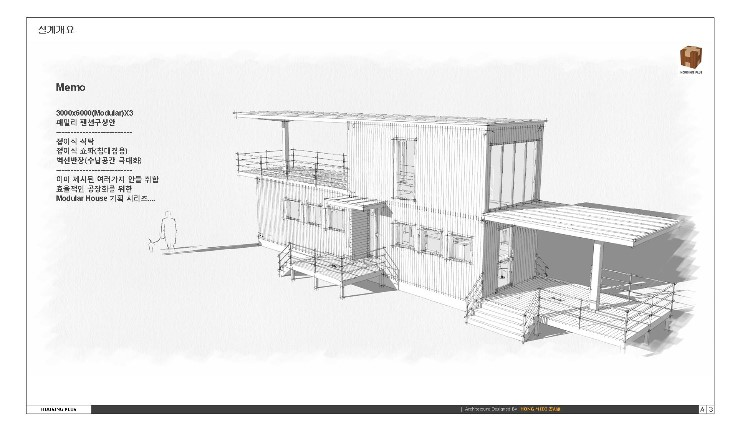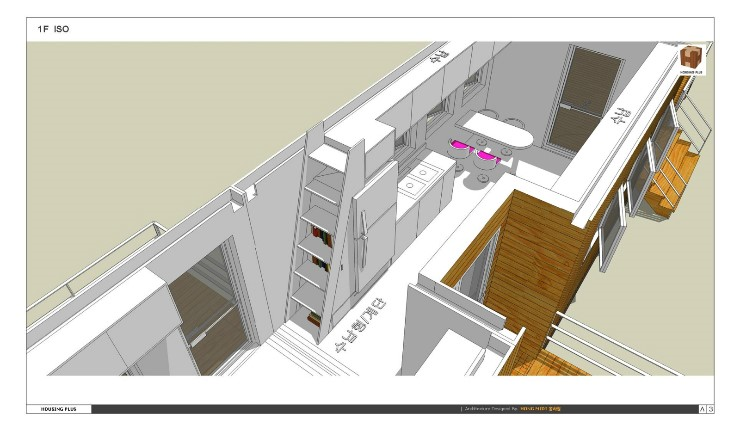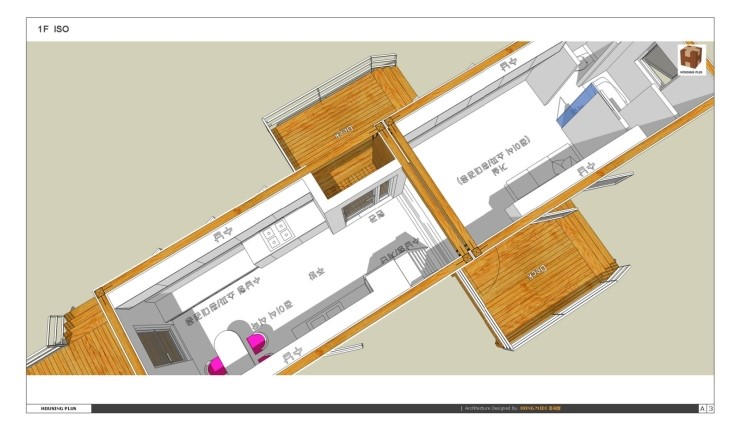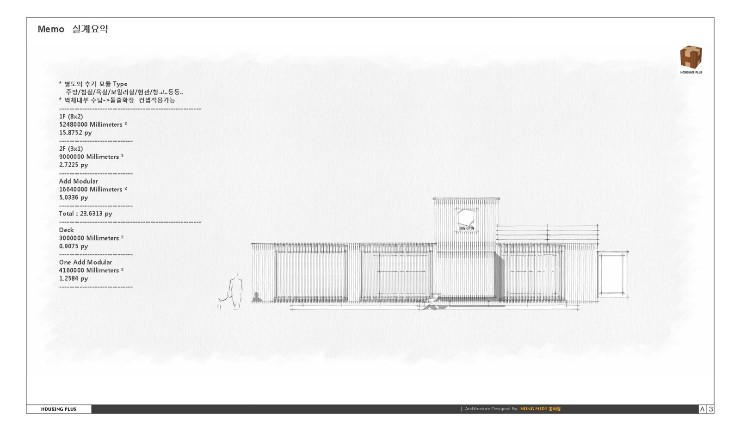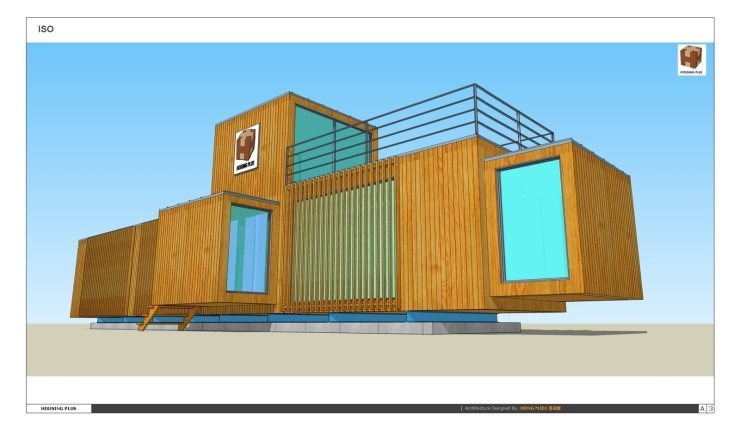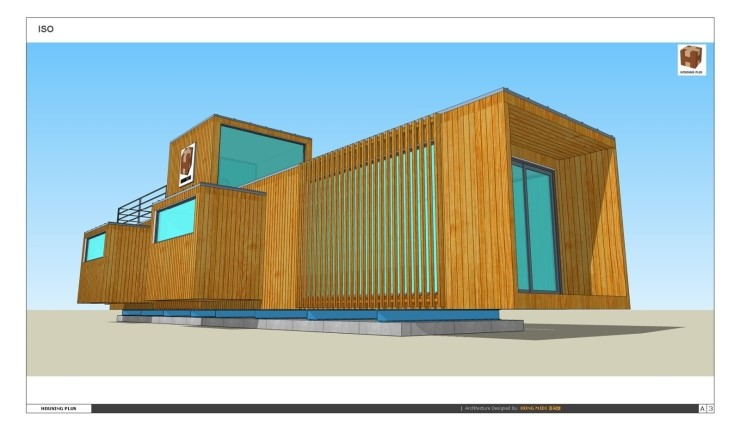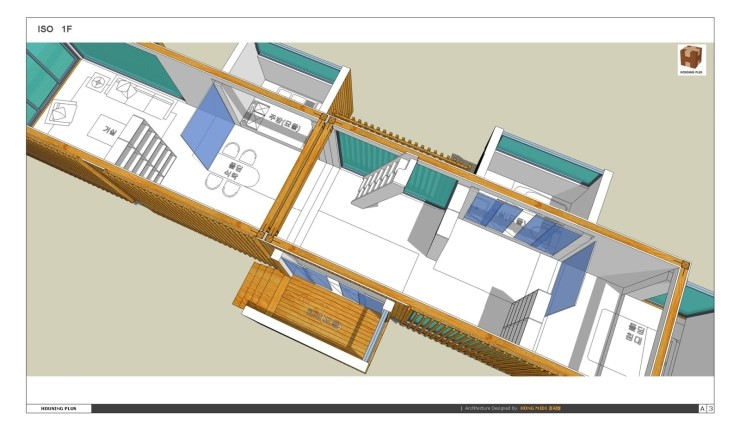 아직 실용화단계까지 완벽한 준비가 완료된 것은 아니지만..
이중 한 모델은 착공해서 시공중에 있습니다.
정말 멋진 저수지 주변에 단지도 만들 계획이구요...
그래도
가장 중요한 평당 단가 !!!
이 숙제는 해결이 잘 안되네요...
한 모델을 최소 5동정도 수주하면 가격은 저렴해지겠지만...
어떻게하든 소형주택의 대안은 모듈주택...
계속 연구해볼랍니다.